One of the many things people don't seem to understand about Pussy Riot, the Russian 'punk band', is that they can't play instruments and were never a band. The members are part of something extremely Eastern European -- a surrealist-dadaist protest group named Voina which stages bizarre pranks intended not just to parody state power, but to cause observers to question the nature of reality itself, so to speak. Kind of like Meret Oppenheim's fur-covered teacup:
What western reporters don't get, being the literal-minded types they are, is that the members of Voina/Pussy Riot are pranksters, not activists. All of their actions are illegal and absurd, and only some of them have any political meaning at all. This is the point Pussy Riot keeps making in this interview, to the confusion of the drab, plodding journalists in the audience. To imagine them as earnest left-wing 'punk band' members makes about as much sense as thinking of Laibach's industrial-metal 'Let it Be' album from 1998, which desecrates every single song on the Beatles original, is a loving homage:
Laibach, not coincidentally, come from Slovenia, are conceptual artists, take their name from the German word for the capital of Slovenia (highly controversial, since the Germans brutally occupied the city of Ljubljana during World War II), and have engaged in actions such as going shopping in Dortmund, Germany in full SS regalia (if memory serves).
To demonstrate how committed the Voina collective is, let us take a Pussy Riot 'member', Nadezhda Tolokonnikova: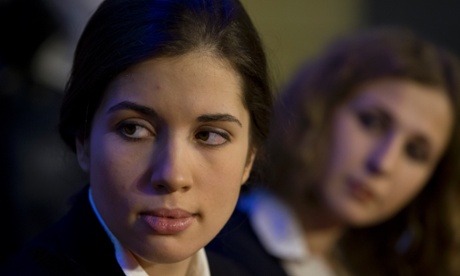 Did you happen to know that there is a video of her, taken with her full knowledge and consent, naked, with her knickers around her knees, having sex doggy-style, in public, while 9 months pregnant? Take it away, Wikipedia:
In February 2008, (Voina) were involved in the "Fuck for the heir Puppy Bear!" performance in which couples were filmed engaging in sexual acts in the Timiryazev State Biology Museum in Moscow.[9][10][11] The performance was apparently intended as a kind of satire of then President Dmitry Medvedev's call for increased reproduction. She was in the late stages of pregnancy at the time.[12] 
And yes, for those of you who are so inclined (you know who you are), there's a video of this performance here. I won't embed it since this is at least nominally a family-friendly blog. She gave birth 4 days after the video was made.
So, Pussy Riot isn't a 'punk band', they're something much stranger and more interesting -- and much more Eastern European.